Jan. 14th, 2022
SNOWPLOWING
Plowing, as of the snow removal plan, goes into effect after accumulation of one inch of snow or at the Police Department's recommendation based on roadway conditions. See the snow route map below.
Residents and plowing services should not stack snow around fire hydrants or on the sidewalks.
Please help us keep fire hydrants visible for the Fire Department.
Thank you for your patience while the City of Highland Street and Alley crews plow all of the streets curb-to-curb. Reminder - All vehicles on snow routes must be moved. If you have available off-street parking, please move your vehicle so crews can better plow on side streets. Alleys will not be plowed. Please drive cautiously if you have to get out. See the snow routes on the attached map.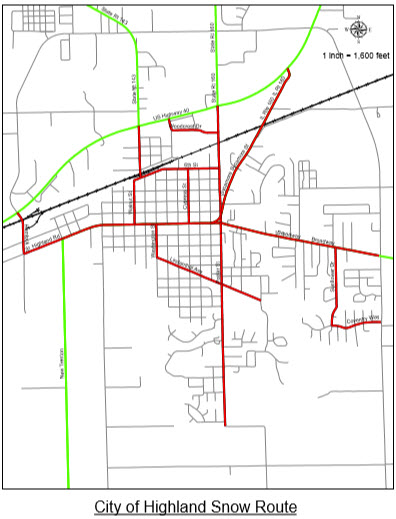 https://www.highlandil.gov/departments/department_of_public_works/snowplowing.php