As many Highland residents use westbound Interstate 70 to commute to St. Louis, Edwardsville and other locations, we wanted to share IDOT information that will impact that traffic flow.

This evening, June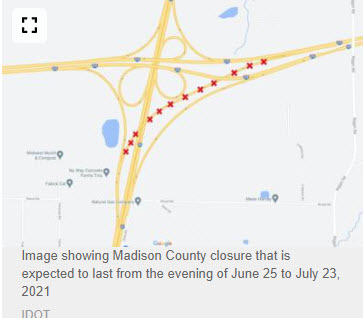 25th at 6:00 pm, the lanes between the westbound Interstate 70/270 split and the merge with southbound Interstate 55 will be closed for repair work. During the closure, IDOT askes drivers to detour by traveling from westbound Interstate 70 to northbound IL 4 to westbound IL 143 to southbound Interstate 55 to southbound Interstate 55/70.
The path from westbound Interstate 70 to westbound 270 will not close.
IDOT expects the repair work to be complete and all lanes to reopen on or by July 23rd.

Travel safe!